SUMMARY
1) WHAT MATERIAL IS NEEDED ?
2) BUILT-IN, INTERNAL SOUND CARD OR AUDIO INTERFACE ?
3) AMP SIMULATIONS ?  THE EFFECTS ?
4) REGISTER ?
I haven't had an amp for ages and since I was a little tired of playing the electric guitar without power, I naturally asked myself this question..
How to connect your guitar directly to your PC without a physical amplifier, how to have effects, and how to register ?
Big question ? Not really because the answers to have something convincing are quite simple to put in place but in front of all the more or less contradictory information found on the internet, this question discouraged me from making guitar videos for a long time..
And what was missing ? It lacked a simple answer, so that everyone understood, even those with absolutely no knowledge of computers or MAO (Computer Aided Music).
I will explain everything to you simply, without incomprehensible technical terms for someone who has not worked in a recording studio for 20 years..
I will detail as much as possible so that everyone can get by.
1) WHAT MATERIAL DO I NEED ?
The first thing to do? Knowing the type of sound card and processor that currently equips your PC is the basis that will be used to make everything else work !
If you don't know how to do it, don't panic it's very simple and it takes 10 seconds under Windows, for Mac or Linux it's not very different (If you already know how to do it, go on).
I explain 2 simple methods:
1) Right click on the "Start" menu at the bottom left then click on "Run" write "dxdiag" (without the " ") then OK .. after a few seconds of waiting a window will open and you will list what is there on your PC.  Processor, version of Windows, memory, sound…

2) For this second method, click on the "Search" magnifying glass located in the taskbar at the bottom of your screen (depending on your Windows version) otherwise right-click on the "Start" menu at the bottom left then go to "Search", write "device manager", in fact you will only have time to write the first 3 or 4 letters since it will already offer you the results, in short in this device manager (and not tasks, make no mistake) all the PC hardware is detailed..

You will see in this list "Audio controller..", the small arrow on the left allows you to open the detail, you will see one or more elements appear.  Your sound card will appear here whether it is internal, external or integrated chipset.  You can right click or double left click on each item to view its properties.
With these references you will know which processor and which sound card or audio chipset are installed as well as the memory.

Thanks to this information, you will be able to do a search on Google to have the power or the release date of an element for example.. which will immediately give you the feasibility or not of the thing in relation to the information you will find here. .

The manufacturers inform each time the minimum version of the elements to operate their devices or software.
As a general rule, if your computer is fairly recent, you will certainly be able to connect your guitar with an adapter and install the drivers, we will see all of this a little further down.
What is latency ?
This is the time lag between the note actually played on the guitar and the one we hear coming out of the PC speakers.
Even minimal latency makes any song unplayable because you won't be able to ensure the right tempo, a bit like singing a song with headphones on your ears which rebroadcasts your voice with a few milliseconds of delay … Good luck !!
Upgrading your PC is useful but the more time passes and the more complicated it is, why ?  Well because if you change the processor of a PC that is say… more than 5 years old for example, there is a good chance that the new processors will no longer be compatible with your motherboard (actually it is rather your motherboard that will no longer be compatible with the new CPUs) suddenly you will have to change the processor but ALSO the motherboard and suddenly your old memory modules will perhaps no longer fit on the new motherboard and it will be necessary to buy more recent ones etc.. etc..
– An outdated processor, insufficient memory, then the PC will not have the computing power to perform the simulation of amps or effects.  At best the result will be chopped, full of holes, crackles and other crackling, unplayable what !
– An outdated sound card or an integrated audio chipset and you will have either no sound at all or with a latency of several seconds that will not be playable.
So if you are still under Windows 98 with the desktop PC that your big sister gave you in 2002 it's dead, no need to go to see the references of the gear, no secrets, either the PC holds the road a minimum either you will have to upgrade it more or less strongly or outright get yourself a newer one.
In short, we quickly understand that if the PC is not very powerful and also quite dated, it is often cheaper to buy a more recent, new or used one than to upgrade an old one which will be outdated anyway. less stress. Think about the planet, if it is really very very old and not worth anything anymore, don't throw it away… you can still keep it to store stuff in it, your music, your compositions, your scores etc…
Now if your processor is powerful enough and only your sound card leaves something to be desired (the audio chipsets integrated into motherboards are quite insufficient, which was my case) the addition of a dedicated sound card or an audio interface will be necessary.  It's a small box that connects via USB to your PC, you connect the jack of your guitar on it, a small driver to install and that's it.
2) THE SOUND CARD

As I told you above, if your sound card is "non-physical" and therefore integrated into your motherboard, you will almost certainly need to acquire an external audio interface or add a new sound card dedicated to the inside your PC. We determine this according to your own expectations and desires.

An internal card (not to be confused with "built-in", this is an important nuance) has its advantages and disadvantages. The first drawback is that the price of such a card which supports a musical instrument is often higher than a simple audio interface. So OK some audio interfaces can also be more or less expensive but we assume that you want to play at home, make compositions, videos, record yourself, have fun etc. with a very good rendering and not work in a mega state-of-the-art high-tech star recording studio with equipment costing tens of thousands of euros.

Now with an "audio interface" that fits in your pocket you are free to play wherever you want, at home or elsewhere unlike the internal sound card which limits you to the room where the PC is, but the whole PC will benefit of this internal sound card, your music, your games, your films or whatever, going to install it inside directly on your motherboard and that it can scare some people when you don't know anything about it (even if it's very simple and only takes a few minutes).
It's up to you to see what you prefer… nomadism, freedom or not.

I owned an old external sound card from M-Audio, the "Fast Track", I replaced it with the "Irig HD 2" audio interface from IK Multimedia which is exactly what I was looking for.  Simple, effective, not too expensive (new it is around 79 €) small, you can plug into a 6.3 jack without an adapter, there is a 3.5 mini jack microphone socket with volume and above all, a very important thing for me it has phantom power.
What is phantom feeding ? Well that means that the device in question is powered directly by a pair of wires contained in the USB cable and that you do not need a separate dedicated transformer or batteries to power it. You plug in the USB and the device turns on.
The Irig HD 2 therefore works in USB but is also compatible with "Lightning" sockets which means that it can be used on PC and Mac but also plugged directly into an Iphone or an Ipad !
IK Multimedia provides PC or Mac software "Amplitube 5 SE" + "ToneX SE" + the full Amplitube version on the App Store to play and record directly on Iphone and Ipad with effects, amp simulations etc.
For all these reasons the Irig HD 2 (not to be confused with its predecessor the Irig 2) is the audio interface that I would advise you to adopt if you were a friend of mine, but you are free to prefer another model from another brand, as long as it is effective.
Anyway, since I recommend this model, to be completely complete here are its specifications.
Audio Interface Irig HD 2 (79 € – décembre 2022)

96kHz digital audio with 24-bit A/D conversion.

32 bit – 96 kHz AD / DA converters.

High resolution with adjustable gain.

High impedance 6.3 mm jack instrument input.

6.3 jack output with FX/THRU selector.

Mini Jack 3.5 headphone output with preamp and volume control.

AmpliTube 5 SE and TONEX SE for PC and Mac included.




AmpliTube for iPhone/iPad.

Custom ASIO driver for superior performance.



Button for applying the selected effect.

Powered by USB.


Supplied with Lightning to micro USB cable, USB cable, microphone stand support and scratch band.



Dimensions: 39 x 99 x 21 mm.


Weight: 51 g.
For me, the Irig HD 2 is the best value for money in its category!
If you are interested in the Irig HD 2 you can get it thanks to the following link Irig HD 2 it will open a page at Woodbrass and to be perfectly clear with you, if you decide to buy it through my link, I will receive a few cents in exchange. This is of course totally transparent for you and has no impact on the price that the merchant offers you (79 € December 2022).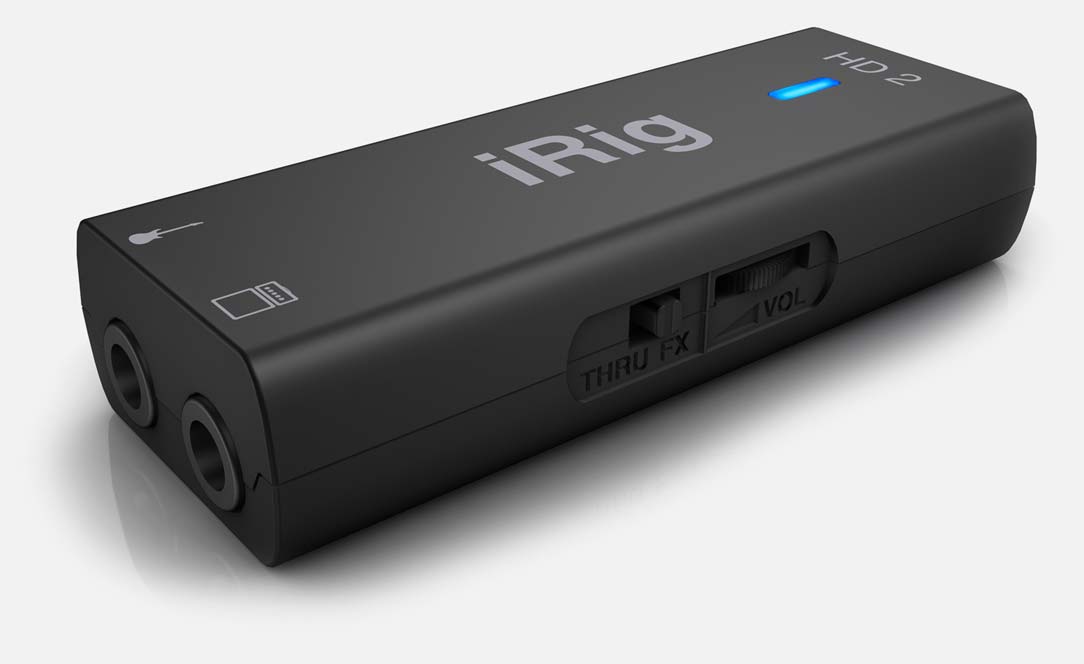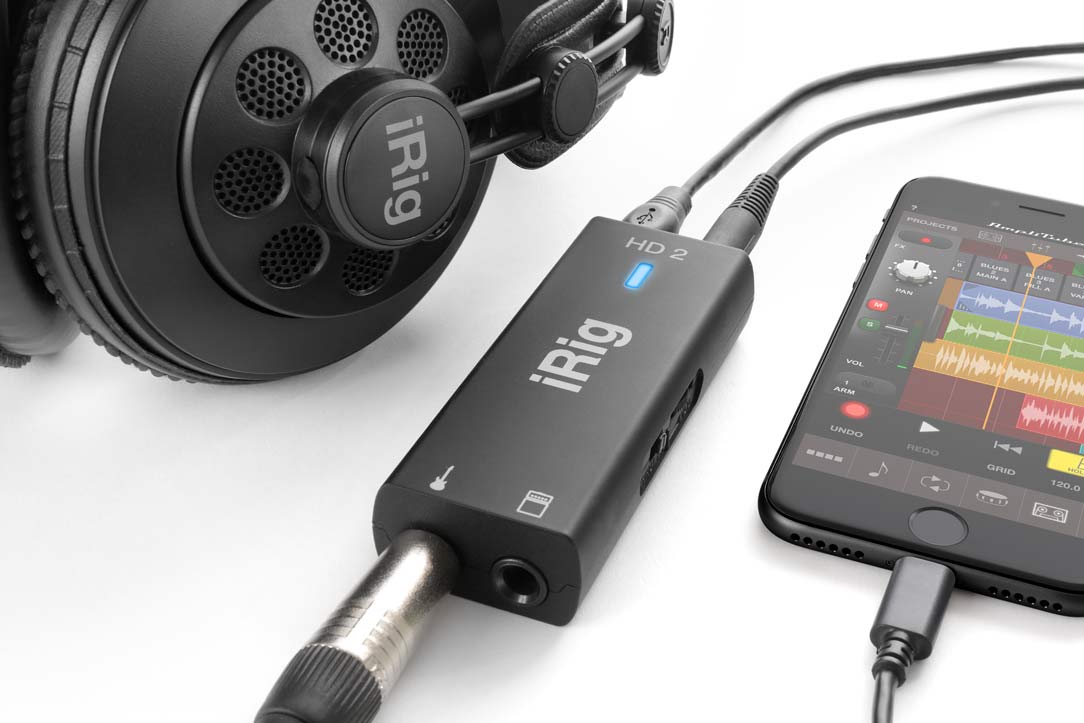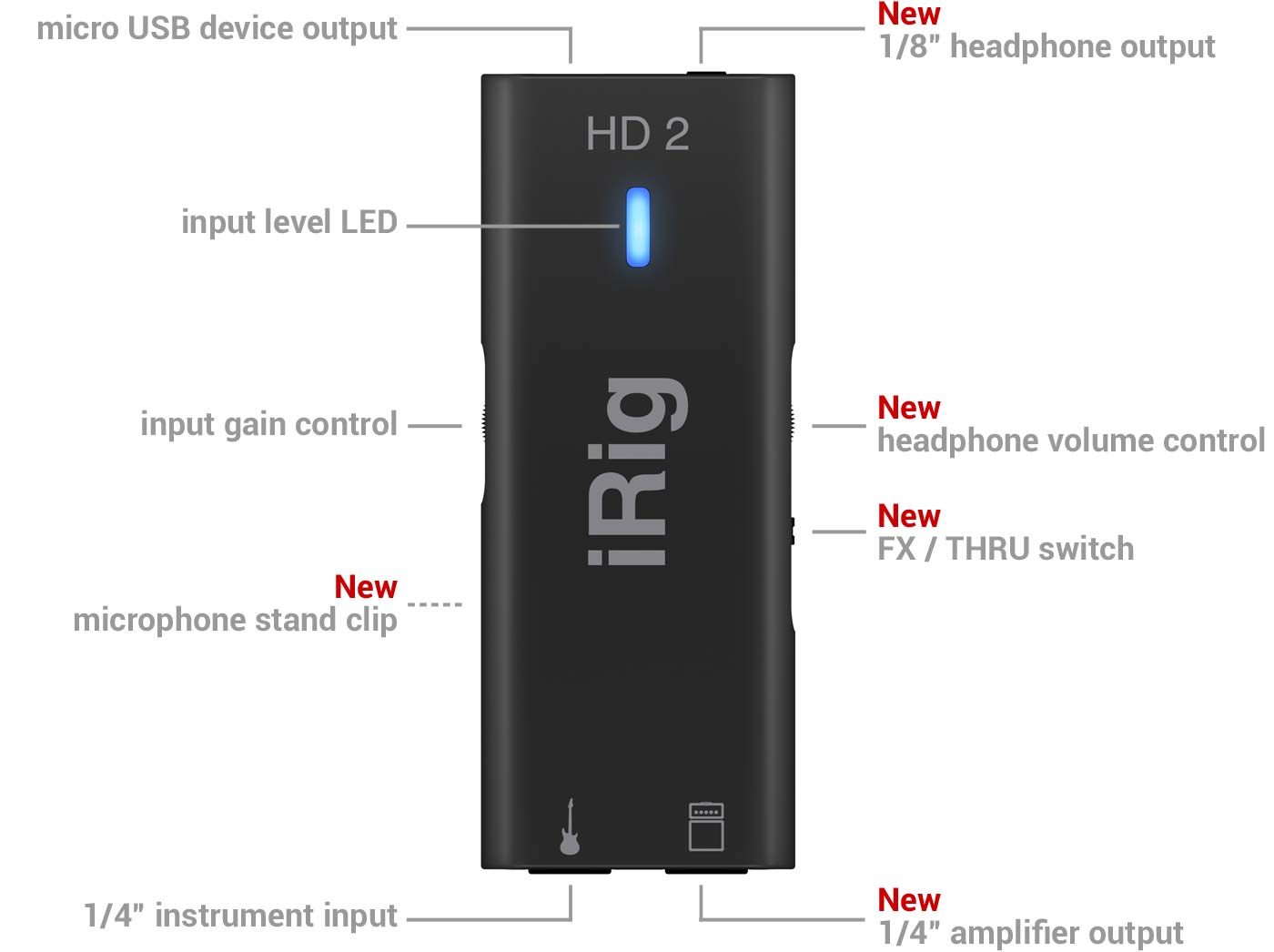 Other interfaces or cards include Line 6, M-Audio, Berhinger, Focusrite, Steinberg, Audient…

Afterwards, we can go a notch higher in terms of prices and possibilities, such as the "Scarlett Solo" model from Focusrite (109 € in December 2022) or the Audient ID4 MKII (144 €) which are slightly larger models and integrate in addition to the microphone sockets or the jack outputs on the back for speaker feedback etc. it is a slightly different use, there are more possibilities in terms of type of connection for those who do pure Home Studio, It all depends on your budget and expectations.

I don't sing so the Irig is enough for me and its Jack + mini Jack + USB + Lightning connections are all I need.

Whatever your choice, you will need to install standard software on your PC asio4all which allows the adjustment of certain parameters. 
That's it for the hardware configuration, it's a very important step because it's here that a lot of people are stuck, so spend the necessary time there.
Now let's see the…
3) AMP SIMULATIONS AND EFFECTS
Now we have to deal with sounds and you have to get amp simulator software, they are full of different effects even in free version.  Delay, Flanger, Distortion, Overdrive, Compressor, Reverb…
For information, here is what simulation software like "Revalver" requires in resources: 1 GHz CPU MINI, 512 MB RAM MINI, VST®/RTAS host or ASIO®/WDM sound car, Windows XP or higher.  Well it's fine anyway but it's better to rely on higher specifications, which can do more can do less.

Here are some software which are in the forefront and which often offer a free version, just with these there is already plenty to do without needing anything else (sometimes you have to create an account in order to be able to download the software).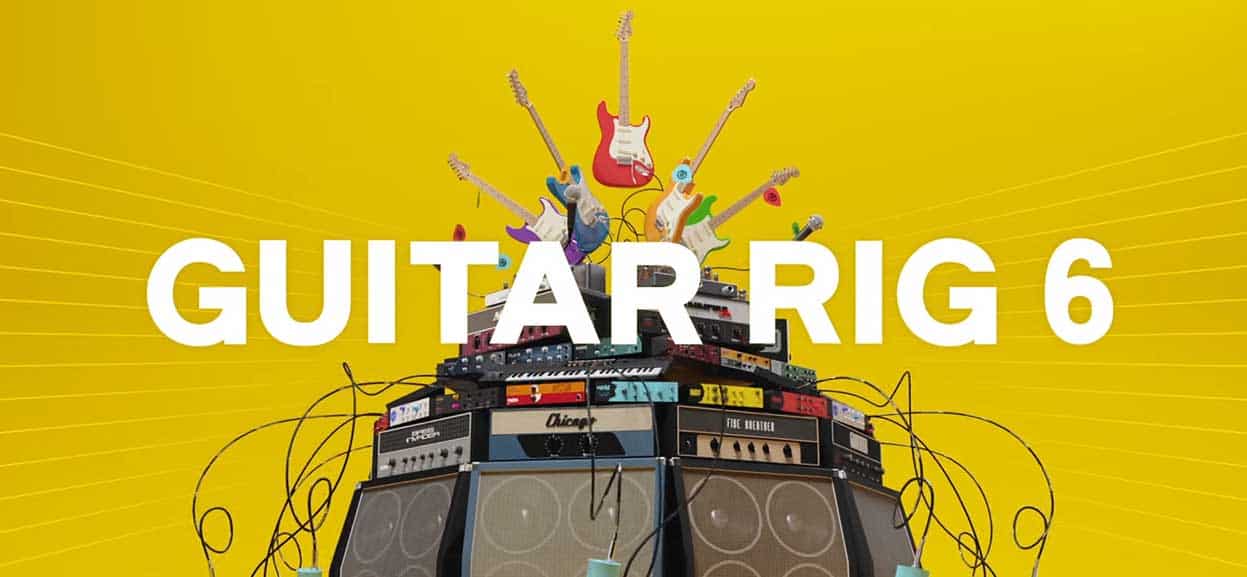 These software each have their sound identity, strengths, weaknesses, ergonomics and graphic style to guide your choice.  I use this or that software depending on the sound I'm looking for.  For me the distorted sounds of Amplitube are a notch above those of Guitar Rig for example, for you it may be the opposite.  It deserves to spend time there to experiment and sometimes not stop at the only sounds on offer but create one yourself, it really changes the game.  You will find countless tutorials on Youtube.
A funny thing is that on Youtube or Facebook I sometimes received messages telling me that tube amps were irreplaceable (and I partly agree) but that is not the question, I do not fit in the war of digital vs analog, it's a never ending battle.. i just want to sit quietly and play guitar with a sound that i like without saying that my amp simulation replaces or sounds like a Fender Tweed.
The anecdote here is that a guy asking me in MP which tube amp I used in I don't know which cover because he thought the sound was excellent, started to spit and dislike all my other videos because I had dared to tell him that everything was digital and that I didn't have an amp.
An all-tube amp will be more organic and warm, but the simulations are getting better and better, much better than people think based on what they were 10 or 15 years ago.
Me what I want is practicality and quality, no longer having to go get my amp above the cabinet, carry it around the floor, plug everything in, then once finished have everything to store in the opposite direction.  When you only have a quarter of an hour to play and no room dedicated to music, it's complicated, the amp stays on top of the cabinet and you play guitar "à guitarpella" (as A CAPPELA but with your guitar)

Today if I have 10 minutes in front of me, I take my guitar, I plug in my jack and I immediately play with hundreds of sounds available at hand, when I'm done I just unplug my jack and it's put away.
The sound quality is there and it's enough for me if you get your hands dirty a bit by tweaking the pre-programmed sounds to make good stuff, the rest is just fun.  You may prefer an all-tube amp but it is not the same price, nor the same weight, nor the same size nor the same optics of use. For me the two can coexist in perfect harmony and be complementary rather than opposed. Let's close this parenthesis now before I get insults, tomatoes and other kicks.
Once your simulation software has been launched, you will need to configure the audio as follows: Go to the audio settings of the software and check "Asio4all", then at the "IN" input select the name of your sound card and finally at the "OUT" output select the hardware that serves as your audio feedback (for me it's "Realtek high definition audio speakers").
Validate and try, if it doesn't work close the software, unplug your USB cable, restart the software and plug in the USB, it should work.
Another much simpler (but more expensive) solution consists in buying an all-in-one device, which integrates sound card, amp simulators and hundreds of effects, it is the current Multi-Effects pedalboard which can connect to a PC, an amp etc. there is a plethora of different brands and prices such as.

3) AND TO REGISTER THEN ?
For recording there is a software that I have been using for years and I recommend it to you right away, I have tried many others but I always come back to this one, I named Audacity !
 
Haaa I see the purists grimacing but it doesn't matter, Audacity is all great and its main flaw is that unlike the others, it's totally free and open source and that… it doesn't may not appeal to everyone !
 
There are regular updates, built-in effects, live tracks are managed, the tools are powerful and everything is very intuitive.
 
If your goal is to make models, compositions, sounds for your Youtube videos, manage effects, do quiet or multitrack, podcasts, even pro recordings, then it will help you.
 
Do not be fooled by those who say that Cubase or Protools are the only valid ones, it is totally false!
 
These software are very good, their possibilities are increased tenfold, and their possibilities go far beyond simply registering and managing a few effects.  So it's a bit like taking out the nuclear weapon to atomize an ant in your bathroom!
 
Believe me, if you don't know anything about it, you're going to be in front of real gasworks compared to Audacity and you'll have to spend a lot, a lot, a lot of time there if you're a beginner at the risk of putting yourself off.
 
When there are too many possibilities, seeing effects that are useless to us, we spend our time trying, testing stuff… Audacity brings together everything you need to start without the superfluous and if you try it you you will see that at the beginning you will not need more.
 
Also, don't be fooled by the appearance of its interface, even if I love the interface of Presonus or Reaper, for example, with all those little flashing lights.
 
Audacity is much simpler, you understand the operation immediately in an intuitive way and there are hundreds of tutorials for more advanced notions, in addition it is in French and all that without paying a single penny.
 
Now if you want to go beyond just mixing a few tracks and a few effects, if you want to do studio mastering, compose with hundreds of virtual instrument soundbanks or even make electronic music… then I encourage you to frankly turn to one of the software mentioned other than Audacity because the latter will not be enough for you.
 
Avid still offers a mini Protools called "Protools Intro" which is apparently free, unlike Cubase or Reaper which offer time-limited trial versions. You can also take a look at Ableton Live, FL Studio, Logic Pro…
 
I will soon make a dedicated article for all these software.
 
 In the meantime here are some links…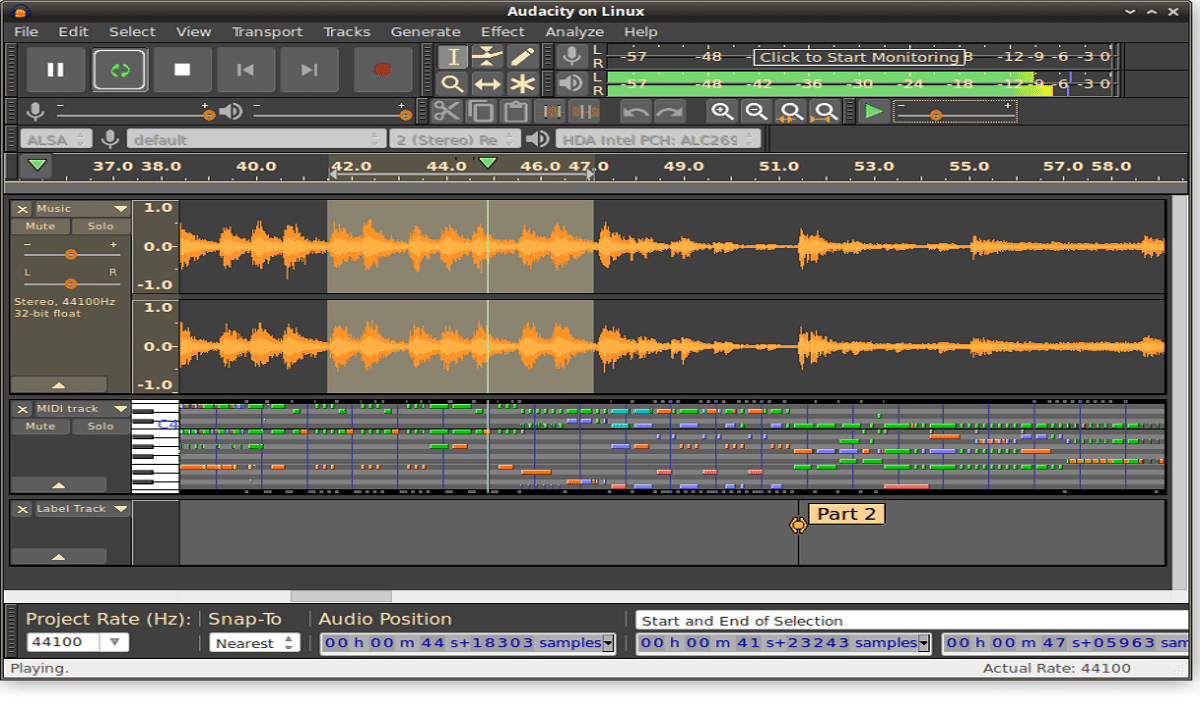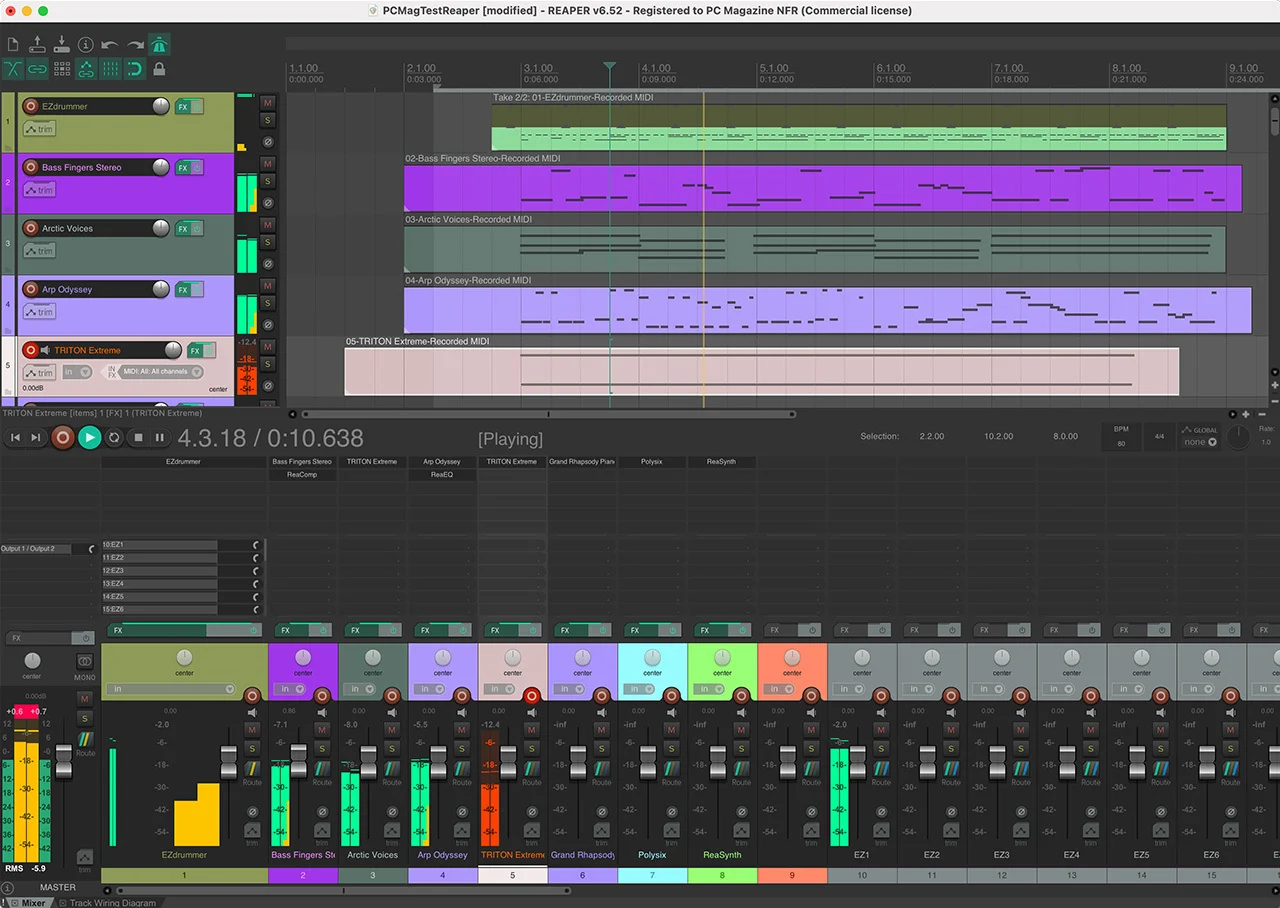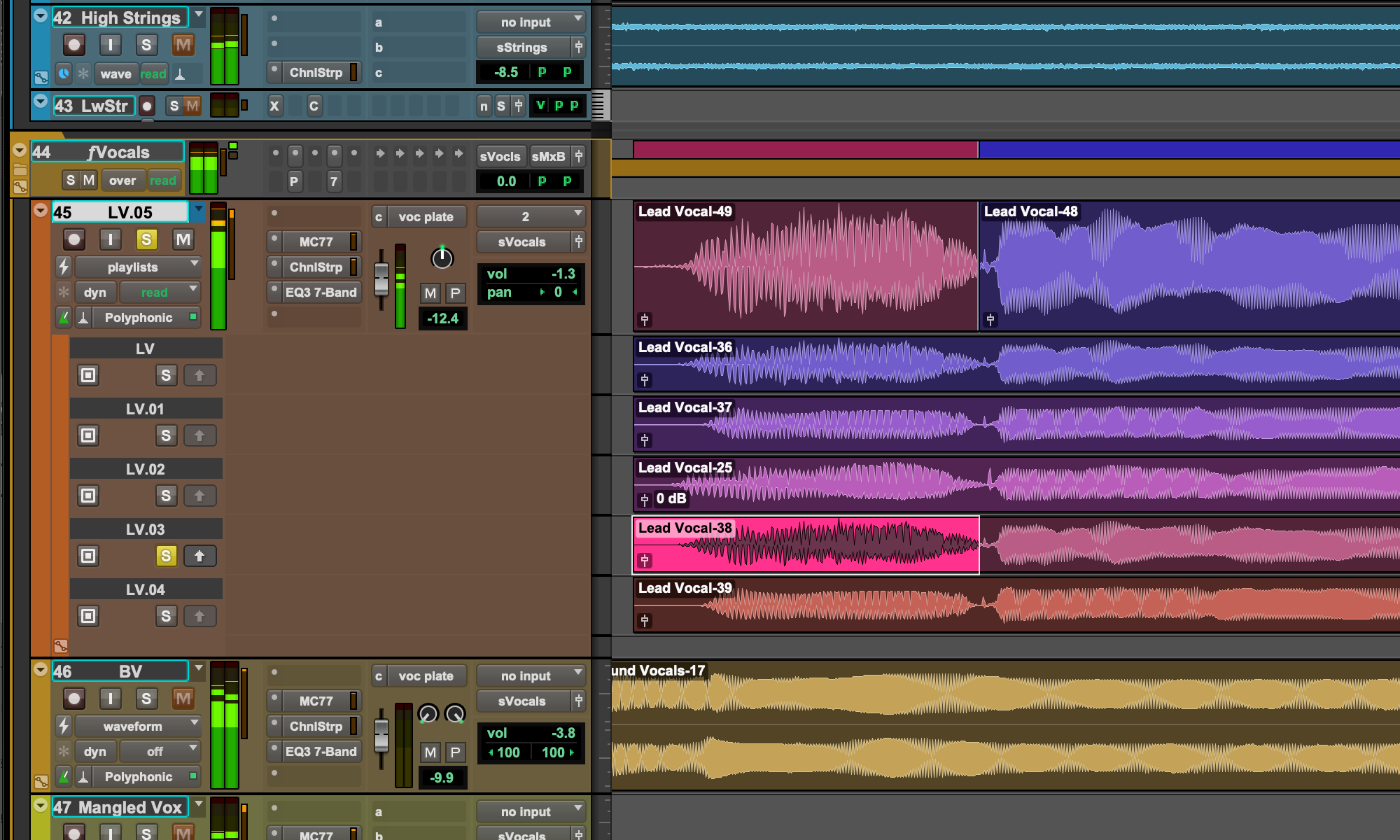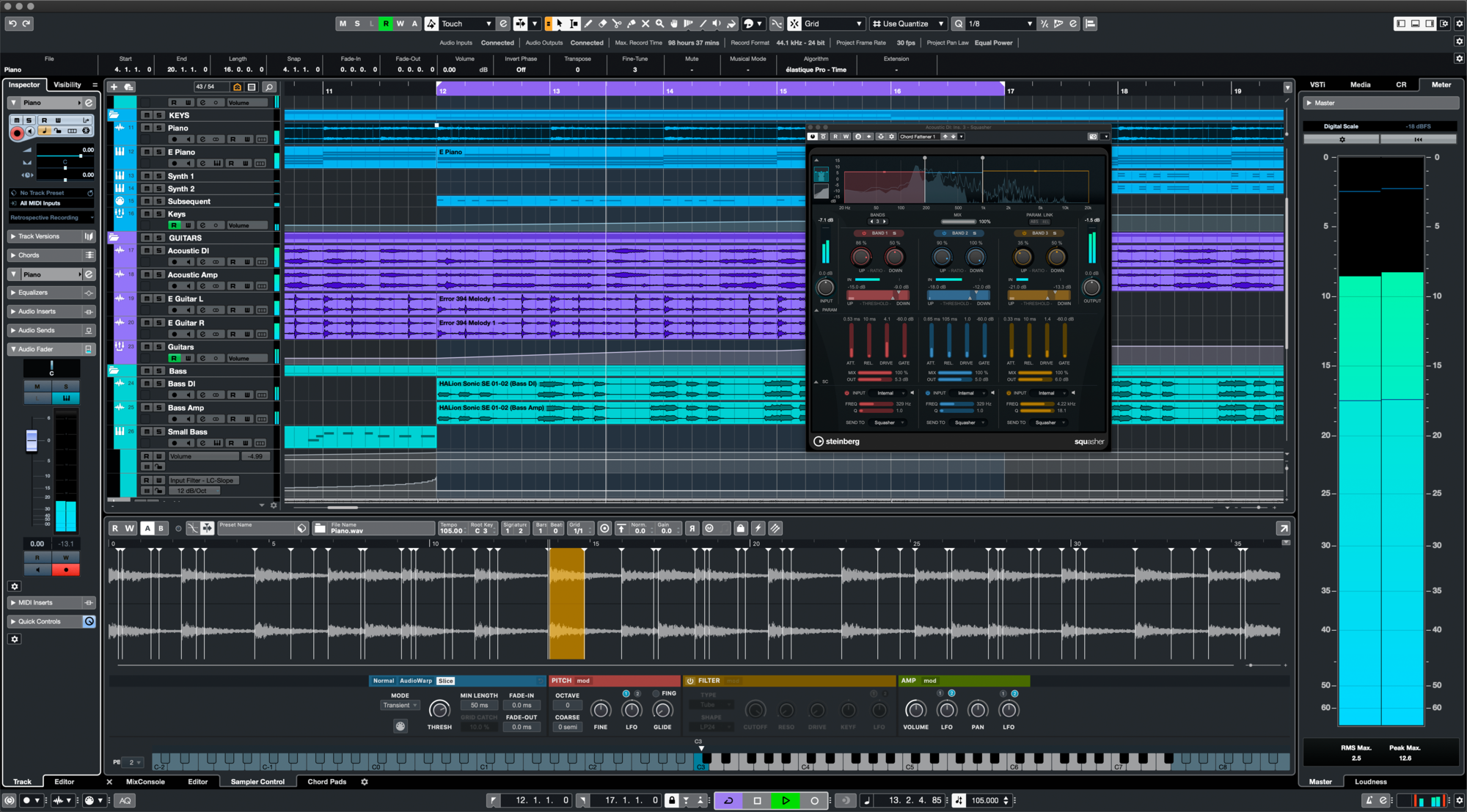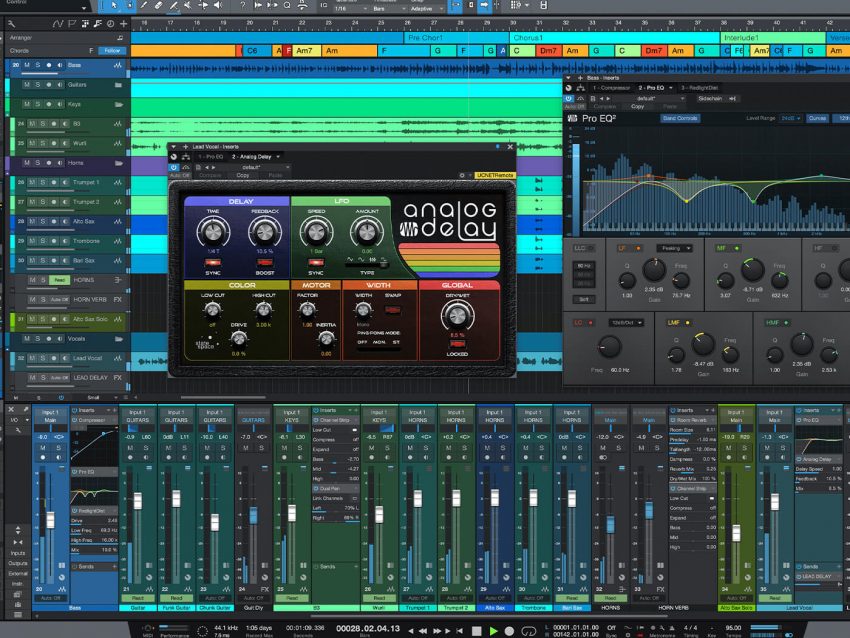 3) WE SUMMARY !



To make a success of your transition to the guitar on PC you need: A PC not too old, an internal sound card or an audio interface as well as amp simulation software (free or not) and a driver like asio4all (free) and recording software (like Audacity … Roooo we understood it's good!)
Normally if you followed my advice you should be pretty close to the truth.
Hoping to have helped you…
Yann STRATOSOUND

Finally here is my main setup in picture.